These pages are updated from time to time as time allows and if the quantity of images on a particular theme reaches critical mass. The links to those new pages tend to be at the top of this page, and will often have the word "New" above it.


panoramic portrait of fran: born in malden, grew up in everett
****
NEW!
oysters etc.
in celebration of Broyser Rock photo at Danforth Art Museum
2015 winter storm scenes and erosion
2015 winter storm scene photos in the Boston Public Gardens,
360-degree snow scenes of Allston/ Brighton
and aftermath images from the Gunrock section of Hull Ma
wasteland
page one
page two
page three
draft webpages of my photo series inspired by the T.S. Eliot poem "wasteland"
****
Brighton Speedway Buildings
Allston Brighton 360 Degree Panorama Photos
****
Marmotintos
Dark Marmontintos
********
Map of Fran's Installations
********
Italiano Section:
Roma Page
The Eternal City
Pietraperzia Page
Sicilian home of my maternal grandparents
in honor of the 100th anniversary of their emigration to Boston
Sciacca Page
Sicilian home of my paternal grandparents, both in honor of 2013, the Year of Italian Culture in the USA
Enchanted Castle Page
35 Years & 1000+ works by Sciacca Sculptor Filippo Bentivegna, aka "the village madman"
Siracusa Page
Now Sicilian, once ancient Greek city
*********
Decordova Wall Proposal Page!
Did you ever come across one of those walls you just obsessed about?
Mass Sheep Page
But a few photos of some Massachusetts Sheep
fran's photo books for sale:
"The Sky Mourns"
Boston Pops 4th of July Fireworks 2013 photo book in honor of the Marathon victims
"Paint the Sky Fiery"
hardcover and paperback book versions of fran's Boston Pops Fireworks photos
Email comments from H.H. Hanson of Pyro Spectaculars, Inc. regarding fran's fireworks photos:
"As the fireworks company who actually creates and fires the show for the Boston Pops,
we were struck with the beauty of your photos... and… well… WOW!"
"Manhole Covers Etc."
240 pages of Manhole Cover photos with added drains, valves and misc asphalt markings representing over 14 years of exploration.
Now with an Introduction by Debbie Hagan, former Editor-in-Chief of Art New Emgland
"Touch the Sky"
cloud photo book that was created in conjunction with fran's show
at the Midland Center for the Arts, Midland MI --- Spring 2012
midland show review by Sue White of MLive.com
"Gardino's cloud photography sets the stage with shots taken from an airplane,
looking down on the cloud cover from above.
Printed on canvas, they are museum-quality reproductions,
photos with the look of fine art."
web-based photo collections:
everett tin pans (panoramas)
and other fine findings by fran including chelsea & watertown colorpans
boston pops 2009 fireworks page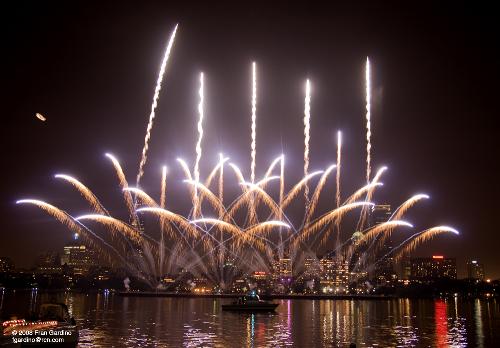 it's like they said, "this was the best year yet". see you there next year
boston pops 2013 fireworks page
I call them "Agave in the Wind" since they took on a new look this year
the great Charles River
pans and pics "work in progress" of the beautiful Boston River
mystic river page
"my dear wife, we are here in a paradise", governor winthrop 1630

wabi-sabi page
impermanence occurs during the time it takes for the shutter to open and close
sunglow page
looking into the winter sun at a home of the Jesuits
classic manhole covers etc.
over 600 photos from around the world
images on google earth
over 500 juried photos used on google 2d and 3d maps


proposals page
several large scale photo proposals on buildings and public places
cloud photos
grand format Logan Airport 10' x 30' installation and 100 photos shot mostly from airline windows
tarweb music page
asphalt as photographic symbols in appreciation of african american music
at the ocean's edge page
31 photos from the photo show at Marblehead Art Association August 2012
nahant beach page
wonder about the importance of nahant over the past thousand years
coastal pics (seaweed etc)
humorous shots of weeds that look a bit like familiar foods


mexican photos
cancun area, mayan ruins and uniquely mayan/christian gravestones
rock of ages photos
two long panoramas of the vermont quarry and some images of special granite gravestones

paw-ligraphy 101
fun translations of muddy dog paw track photos
******
hear audio interviews of fran by norm thibeault:
audio podcast #1
audio podcast #2
and a web article:
juhi varma blog at bu
******
contact:
fgardino@rcn.com