This page was created in the spirit of the great living legend
Claus Oldenberg and his colossal installations for many public spaces...
so I guess we'll start with my biggest proposal to date:
John Hancock Tower Clouds (pick one :) )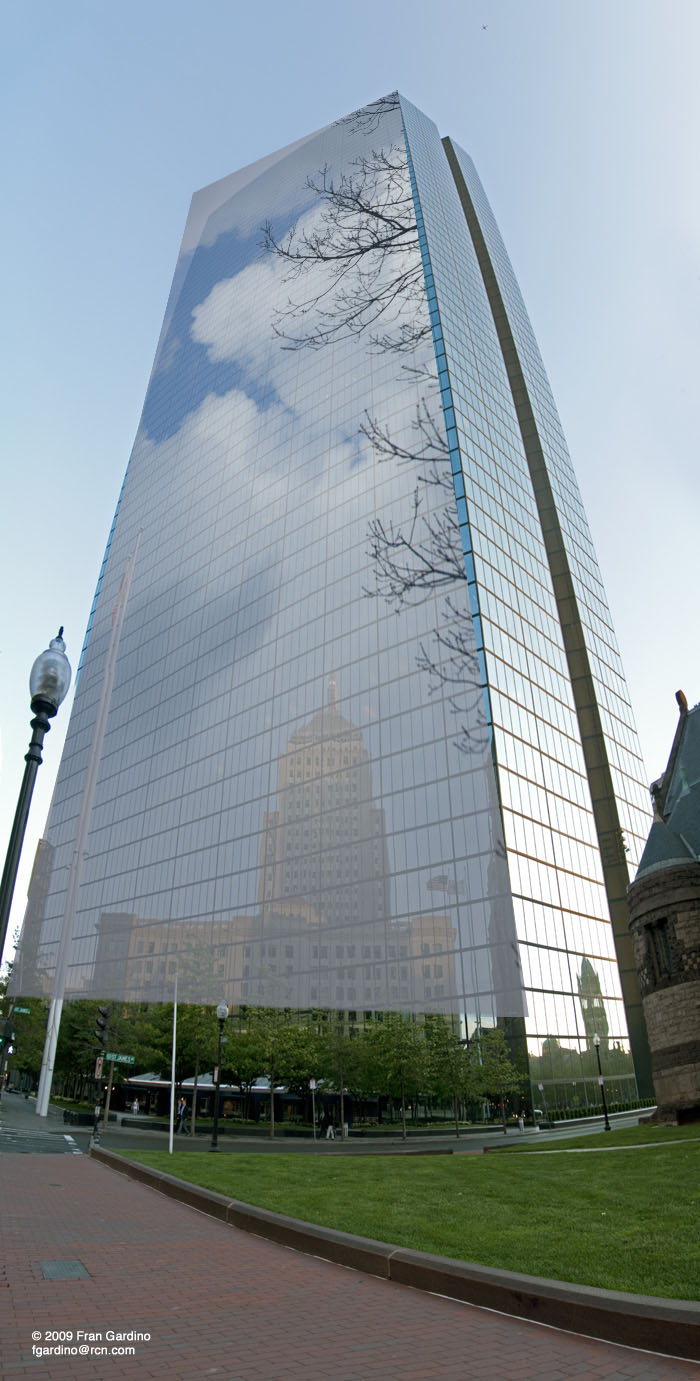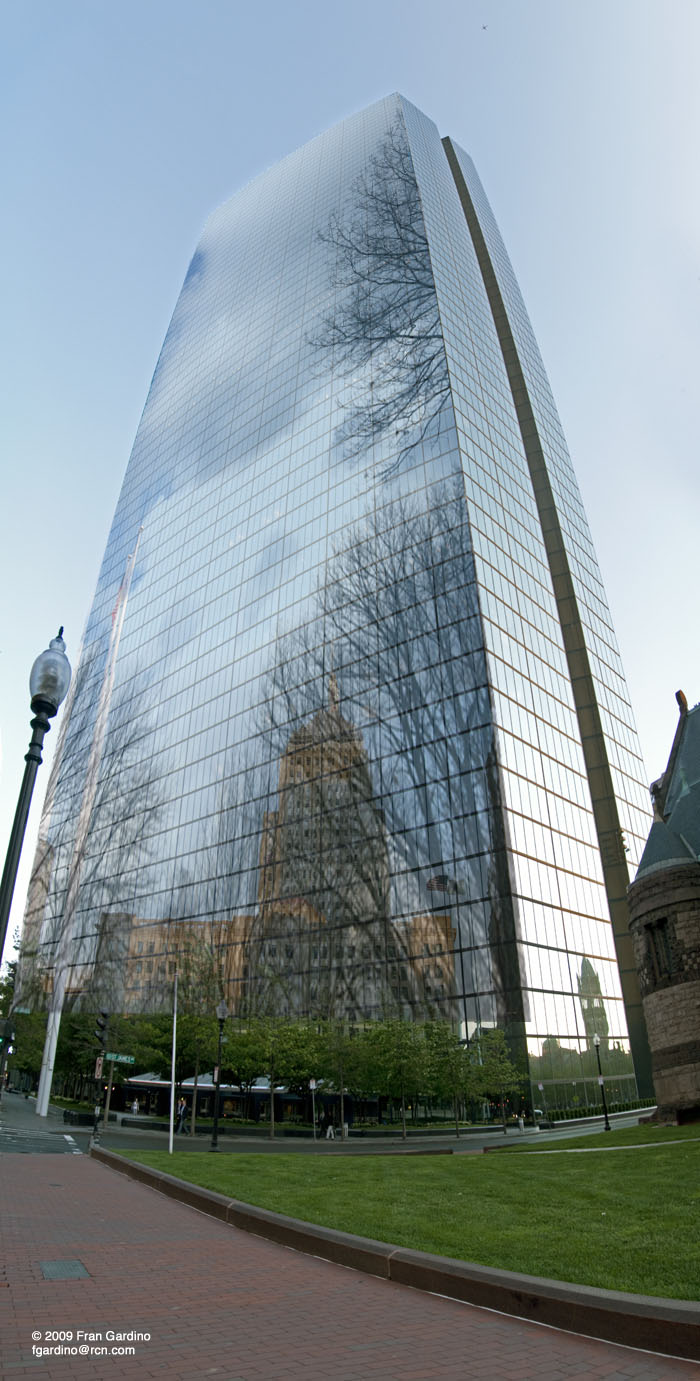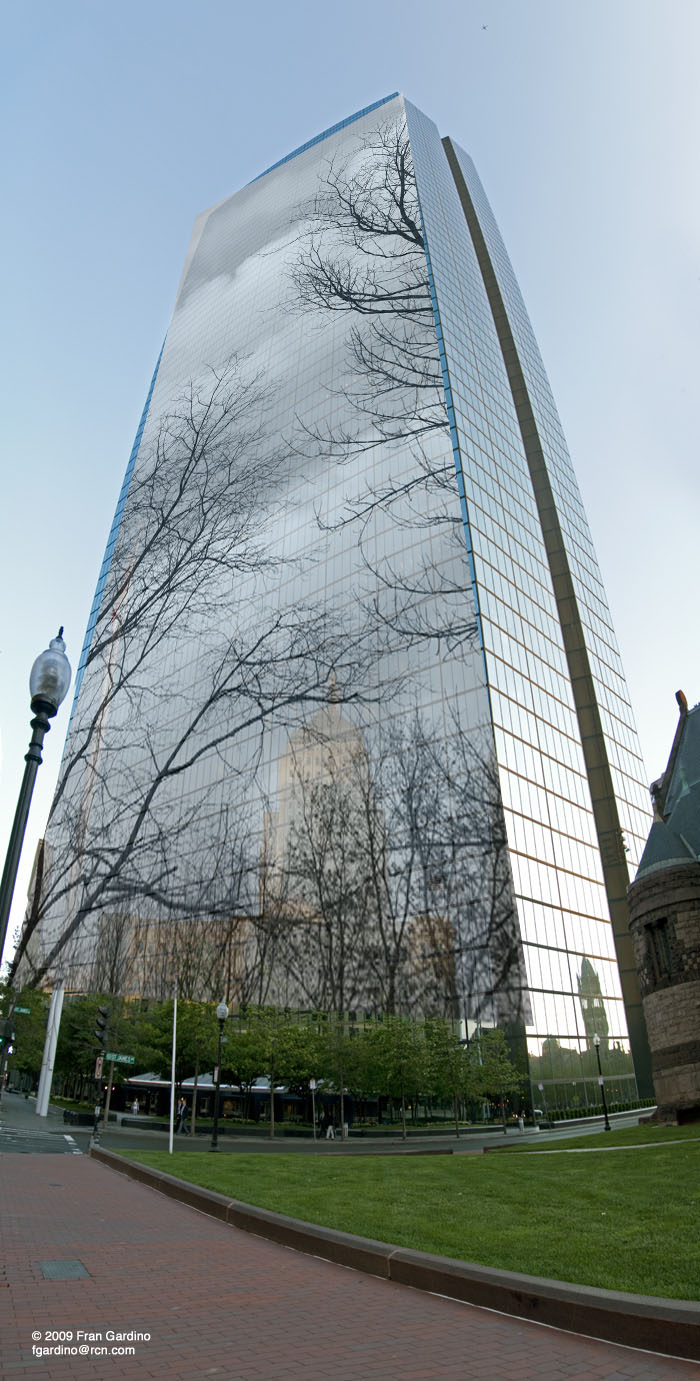 Years ago, while I was still at Mass Art studying with an architect named Bob Kramer who also had a studio at MIT, Bob told us that the original idea of this new John Hancock Tower with all that glass was to reflect the sky and appear almost invisible. Of course Bob being Bob, also suggested that on a sunny day, while driving eastbound on the Mass Pike which is a adjacent to the JHT, the driver and all the passengers would be instantly incinerated by the magnified rays of the sun. Well needless to say, that never happened and all is well in Boston.
So also inspired by the words of Bob, I am proposing that we decorate the glass on one side of the JHT with one of my cloud photos, preferably one of the above. Notice that I left some bare branches in the photos to give the viewer a sense of weight and gravity. I do have many other cloud photos that could be substituted as well. For the obvious practical reasons, I originally considered projecting the image onto the glass from dusk til dawn, but recently, I heard of a building in Germany that has a cloud permanently printed on the glass windows and so it seems like it's not such a crazy idea but a great idea for a series! Watch this page for more.
New!
Decordova Museum Wall Proposal
Since there are so many of my vertical panoramas used in this page, I've decided to make a whole page dedicated to this one.
Next, the new ICA in Boston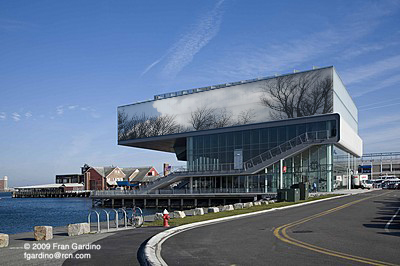 The original exterior photo of this building was from the official ICA Boston website and I simply placed one of my cloud tree photos into it using Photoshop, as with the others. During the Shepard Fairey show, they placed one of his pictures of Andre the Giant on the front side of the building. So I say, if it's OK with Andre, it's OK with me to have one of my clouds on the side and I'll call it photografitti.
I shot the original photo below of the interior blank wall on the new ICA Opening Day. I then considered many images before settling on the clouds once again due to the symbiotic relationship of clouds and windows. I shot my cloud photos from within a commercial jet window and now these same images will be seen through and reflected onto the window various ways depending on the time of day and the interior lights used to illuminate it. That is of course, if and when the ICA approves it. :) On another note, on that same ICA Opening Day, Yoko Ono had a video camera placed on the roof that was sending live video to an LCD flat screen monitor inside one of the new ICA galleries. Of course you can see it was a perfectly clear day so the live video showed only an occasional bird flying overhead with a smooth blue sky in the background.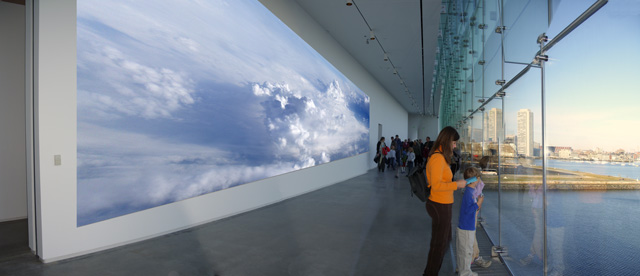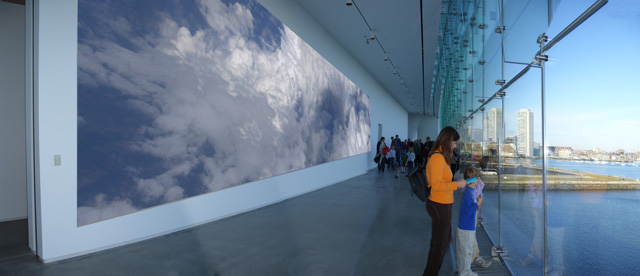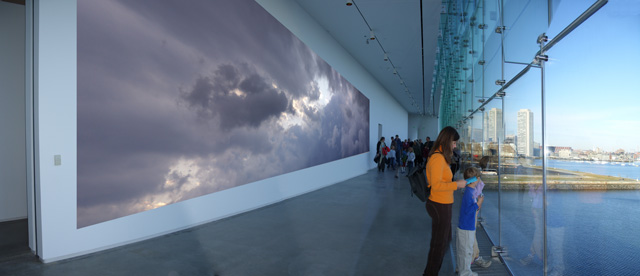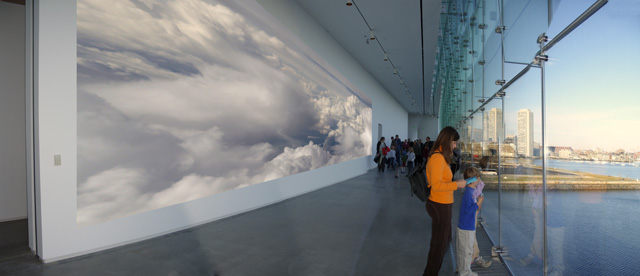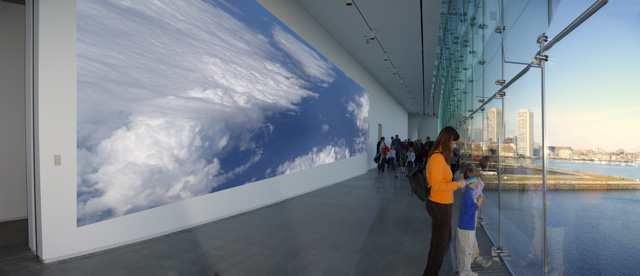 *******
Next Stop, Logan Airport "Coach Class Sunrise"
This one was accepted by Logan Airport and after 2 years in the works, is cuurently installed in Terminal A, near the outer gates! It is 10 feet wide by 30 feet high and is meant to provide the traveller with a sense of calm and freedom. One observer said that it may have been photographed from coach class, but it is a first class photo, and I thanked him greatly.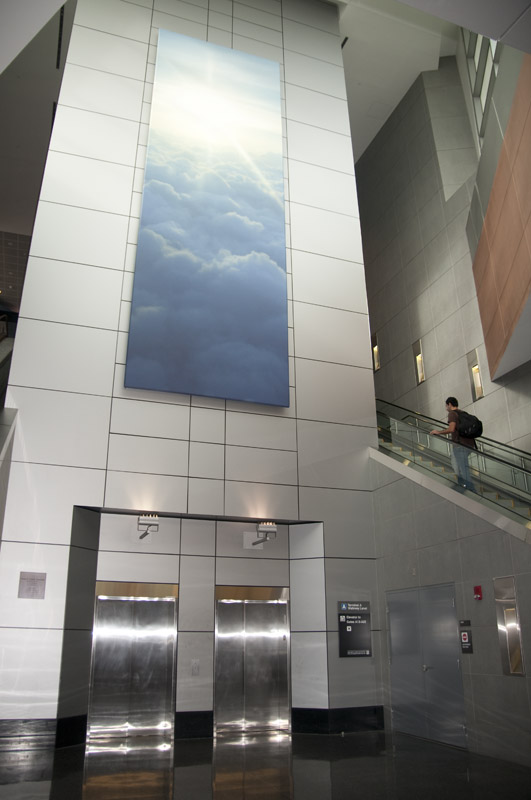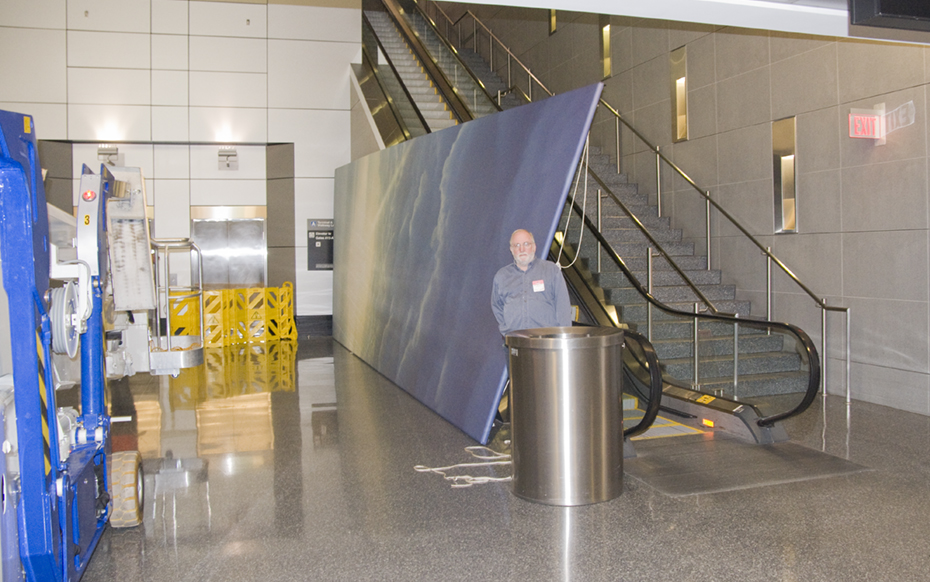 Fran pictured next to leaning cloud photo.
************
Boston Museum of Fine Arts Proposal - Cattails Pond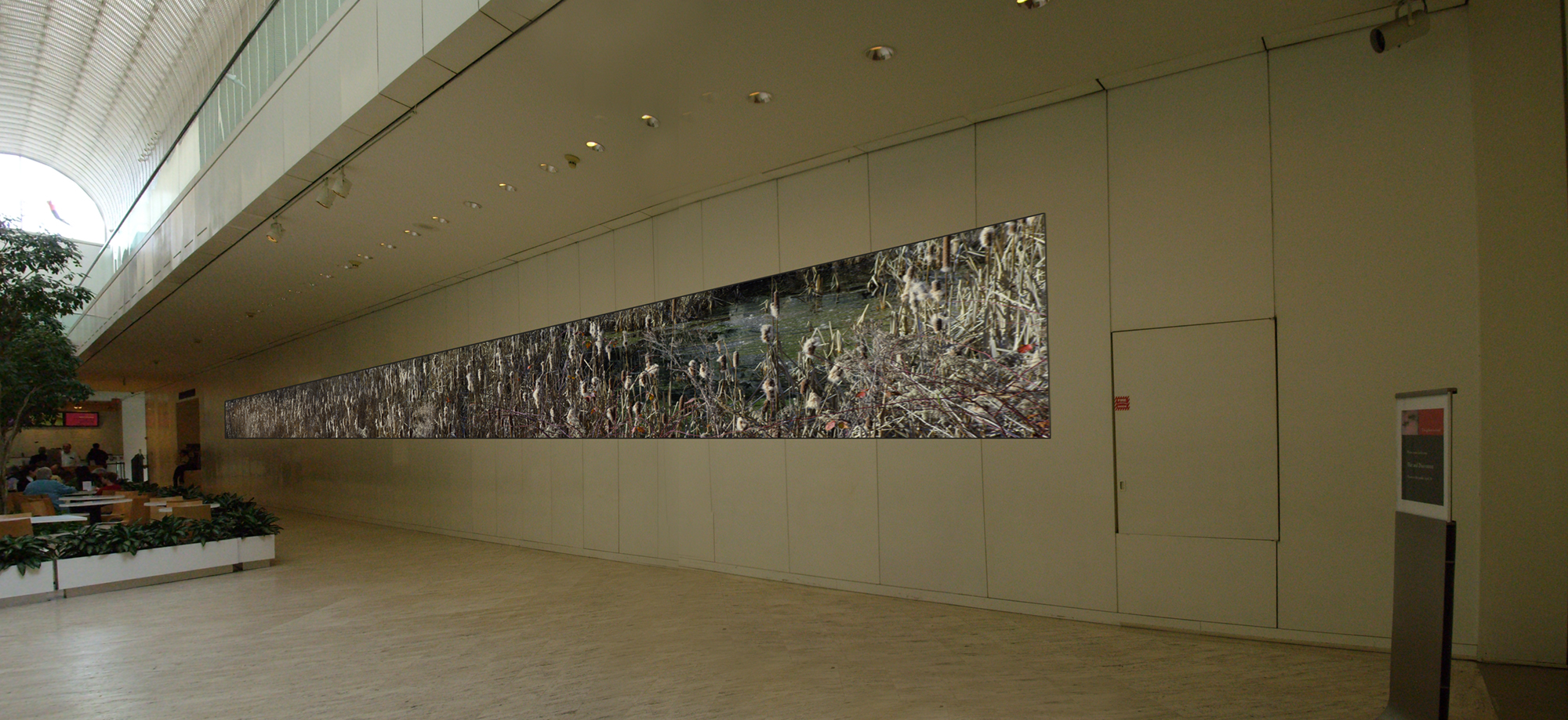 This proposal is for a 100 foot photo for the first floor wall of the new wing of the MFA. The abundance of cattails (or cat o' nine tails, as in flogging device) in this long panorama photo were like those that were present in my childhood in the Village section of Everett (possibly for pollution bioremediation) and also near a small painting studio in Rockport MA (used by natives as natural component of toys) where we spent a lot of time with my father's artist friend, and where creativity reigned. Like cattails, the creation of an abundance of art can often be a three-fold process of punishment, healing and fun.
************
Boston Public Library Proposal - Boston First Night New Years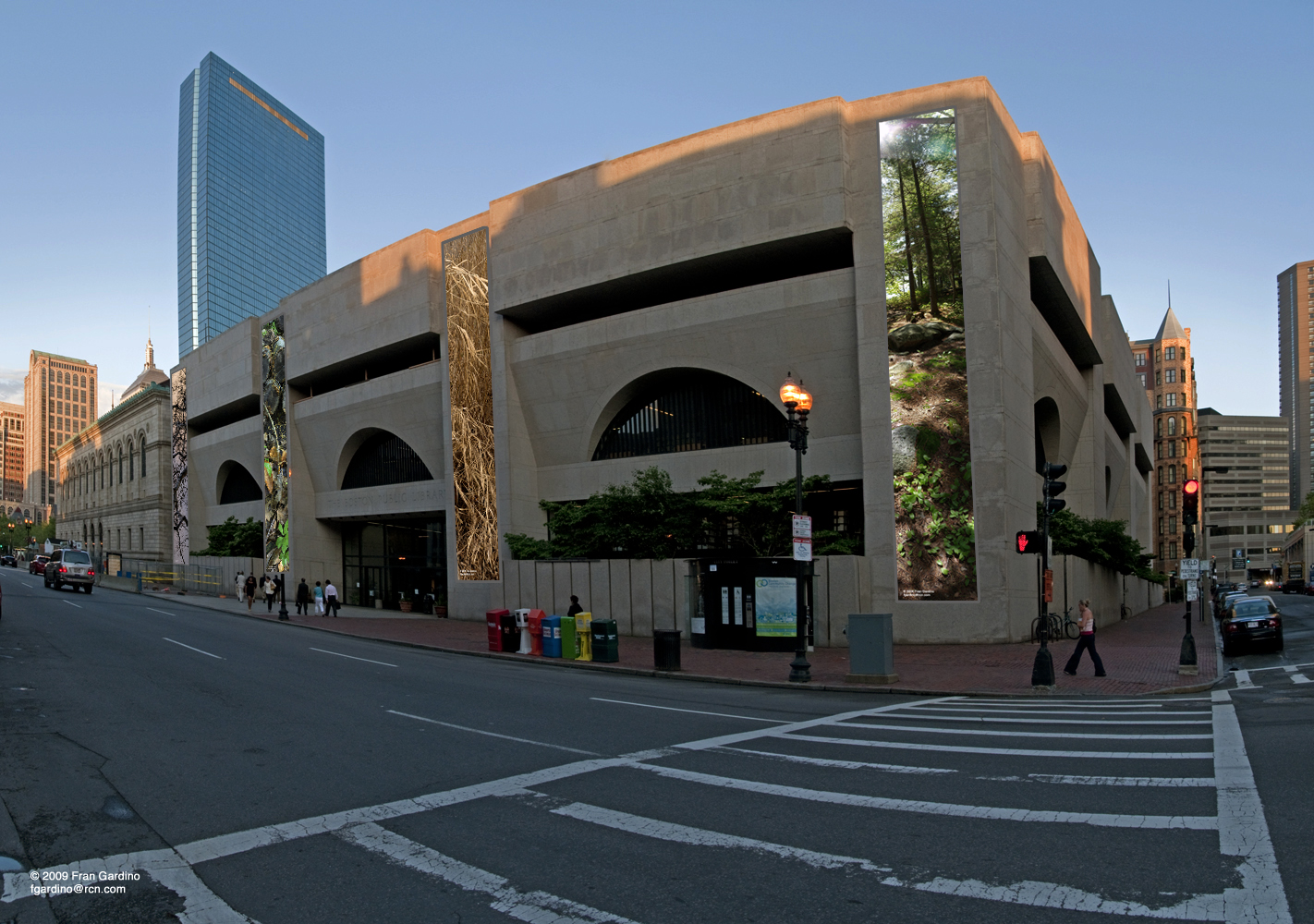 Here is a proposal that was sent to Boston First Night and would probably be installed
for only 2 or 3 days and nights. The concept is to celebrate the Four Seasons passage of time with photos of New England natural elements used in the paper and publishing industry, like trees and reeds. The photos would be 6 feet wide and 48 feet tall each. They would be printed on a durable banner fabric that could withstand extreme cold, wet, frozen and/or windy conditions. Of course it would also withstand weather conditions of all four Boston seasons and could be enjoyed all year round.
************
Boston Trinity Church Plaza Proposal - Boston First Night New Years

The browns in this photo installation are not unlike the browns used in the structure of the building and surrounding plaza and attempt to present the Zen wabi sabi aesthetics to a Boston audience with images that have a universal spirituality and tonal commonality with familiar elements of the revered architecture of H. H. Richardson and in this particular case, the Trinity Church of Copley Plaza. Since wabi sabi is the art of impermanence, I have considered that these photos be printed on a paper that will disolve in the rain (you know kinda like the First Night ice sculptures that melt on warm days around the New Year celebration) and will propose similar impermanent wabi sabi photo installations near other Richardson creations, at different times of the year.
************
Boston Common Fireworks Photo Proposal - Boston First Night New Years

Well it just so happens that fireworks are normally shot on the Boston Common not far from this footpath crossroad. In contrast, these photos were shot of the Boston Pops fireworks in the summer on the 4th of July, which is the opposite season from the winter event on New Years Eve/Day and once again, remind us with evidence of the passage of time.
************
Boston Common 100 Foot Photo Proposal - Boston First Night New Years

These have nothing to do with the pasage of time but would be fun to see in their 100 foot entirety and the amount of time it would take to walk along the length of the photo to observe the detail.
************
More proposals are on the way to this page... please revisit.
FG
www.frangardino.com